TWELVE students of the WhiteHat Security IT Training Academy have received their graduation certificates from the Department for Employment and Learning (DEL). The five week IT Academy, delivered through DEL's Assured Skills initiative, trained the students in specialist IT skills identified by WhiteHat Security for specialist Dynamic Application Security Assessment (DAST) roles within the company....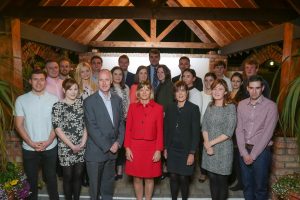 NINETEEN new graduates are set to undertake a series of training modules and work placements with Moy Park. The company's Graduate Development Programme for 2015/16 was launched at an event in Newcastle's Burrendale Hotel, where graduates were welcomed to the company by Moy Park Chief Executive Janet McCollum and heard from Moy Park's HR Director...
SIXTEEN graduates have successfully completed the second PwC Data Analytics Academy. The academy provides graduates with the skills and experience required to take up opportunities in PwC's new and rapidly growing Data Analytics team. Designed by the Department for Employment and Learning (DEL), PwC and Belfast Metropolitan College (Belfast Met) under the Assured Skills initiative,...
FIVE Northern Ireland students will have their tuition fees paid for the duration of their undergraduate degree thanks to Queen's University, Belfast. This is the third year of the Queen's Scholar scheme in which each school or college across Northern Ireland was asked to nominate pupils who could demonstrate exceptional achievements outside academic life, whether in sport, music and the arts, business and enterprise or through community work, with a...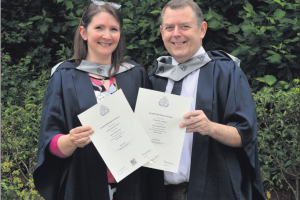 A HUSBAND and wife who both returned to study have graduated from South Eastern Regional College (SERC). Nigel Jackson, 55, and his wife, Marion, 48, from Lisburn attended evening classes at SERC to study for the Liverpool John Moore's BA honours Business Studies degree. The couple had to juggle studying at SERC with work and...
A student from South Eastern Regional College has been named Outstanding BTEC Construction Student of the Year for 2015 at the National BTEC Awards. Kyle McKee scooped the honour in a competition which celebrates achievement in the country's most widely taken vocational qualification. Kyle has a distinction-level BTEC Subsidiary Diploma in construction from South Eastern...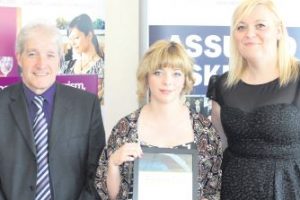 Fourteen students have received their certificates after completing the Eishtec Training Academy. Following the announcement that Eishtec UK Ltd was creating 320 jobs in Northern Ireland, the three week Training Academy was designed by DEL, Eishtec UK Ltd and Southern Regional College (SRC) under the Assured Skills initiative, to prepare the successful students to compete...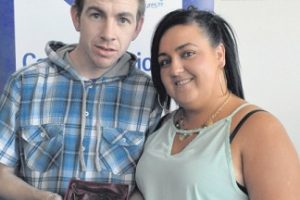 BELFAST Metropolitan College has celebrated the achievements of students and staff at its Apprenticeship and Training Awards. Forty-seven successful students received awards recognising their achievements through their current or recently completed ApprenticeshipsNI, Programme Led Apprenticeship or Training for Success programmes. The student award categories included the Apprentice Award, Training Award, Work Placement, Essential Skills and...
A new training academy will help equip students with the skills needed to take up opportunities in the export sales and marketing industry. The Export Sales and Marketing Academy is aimed at those who have a minimum HND qualification in any discipline. It will provide an intensive eight-week training programme, with one of the weeks...
More than 200 learners have achieved special further education awards from North West Regional College (NWRC). Hosted by the Millennium Forum in Londonderry, this awards event was the first of its kind for the college, enabling it to celebrate the achievements of further education learners who have undertaken Level 1, Level 2 and Level 3...