Healthcare Agency Lucas Love today promised to pay a National Living Wage to all current and new Care Assistants registered with the agency. Sinead Polland is the first Nursing/Care Agency Director in Northern Ireland to guarantee Care Assistants the £7.45 an hour rate. The decision to increase the current hourly rate for all Care...
James Callander's job is to find top talent for senior positions. At just 31 he is already managing director of FreshMinds Talent, the recruitment business, so he knows first-hand what it takes to rise rapidly up the career ladder. His secret was to join a growing company in a growing market which enabled him to...
A GLOBAL talent survey has revealed that 80% of employees plan to stay with their current employer in the next year – a significant increase from 2011 when nearly 65% were planning to leave. However, the Talent 2020 survey from Deloitte warns that out of a false sense of security, companies may neglect their...
Northern Ireland's Rainbow Project is working to raise awareness among employers on the issues affecting those who are gay, lesbian and bisexual in the workplace. The support organisation for the gay community won the two-year awareness-raising as a result of its submission entitled Through our Eyes. The report detailed the experiences and perceptions of lesbian,...
A new Labour Relations Agency Arbitration Scheme will provide a voluntary alternative to an employment tribunal. The scheme results from a key recommendation emerging from the Department for Employment and Learning's public consultation on systems for resolving disputes in the workplace. The scheme will facilitate the hearing of grievances but without the attendant formality and...
More people than ever before enrolled on Essential Skills courses in the last academic year, according to the Department of Employment and Learning. Now celebrating its tenth year the £60m Essential Skills campaign has helped transform through improved literacy, numeracy and ITC levels, the employment prospects of over 85,000 Northern Ireland adults. Commenting on the...
A new booklet entitled Showcasing Disability Best Practice aims to improve the experiences of people with disabilities in the workplace. Minister for Employment and Learning Dr Stephen Farry launched the publication to highlight examples of best practice demonstrated by employers across Northern Ireland in recruiting and retaining employees with disabilities. He said: "People with disabilities...
Your first day in a new job can be a nerve-racking experience but as long as you remember why the company hired you, you've nothing to fear. Here are some handy tips on how to approach your first day: Check the route to your workplace the week before. Have your journey planned and leave...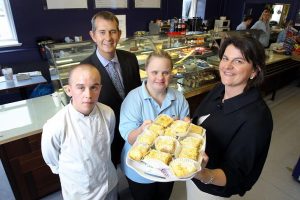 A Co Down company is creating new jobs for people with a learning disability or mental health issue, both here and in England. Accept Care (Social Firms) Ltd is expanding its Daisies Café social enterprise chain to Belfast, Lurgan and Darlington in England thanks to help from Invest NI. Derek McClure, operations director at Accept...
One of Northern Ireland's biggest mental health charities has launched a training service addressing a problem which costs the local economy over £790m a year. Action Mental Health's new AMH Works consultancy and training scheme will help employers support the one in six people in the workforce said to be affected by mental health problems....